DuBois, PA – A veteran from DuBois is in desperate need of your support after some severe complications after his appendix burst.
44-year-old Bryan Huseby is best known in our area for his healing yoga classes and his wide smile, but now his family says that Bryan has been confined to a hospital bed for the past few weeks.
Back in late summer, Bryan's appendix burst and, after going to the local hospital and being sent home in even more pain, his family and friends rushed him to Johns Hopkins Hospital in Baltimore.
They brought him back from death's doorstep, but since then he has returned to Johns Hopkins after his drainage tubes became infected.
Because he's been in the hospital for so long, Bryan has lost his home and his pets.
A lifelong friend, Kimberly Markievich, says it's hard to see Bryan's life get turned upside down.
Listen to Kimberly talk about Bryan.
Bryan recently got a blood transfusion, which the doctors are still monitoring. He'll be spending Christmas in the hospital and will have a long recovery. Doctors say he likely won't be able to eat food, even semi-solid food, for at least 6 months.
Bryan's family and friends are asking that, in the spirit of the holidays, to consider donating to his GoFundMe page.
Bryan's GoFundMe page, where you can read his full story, see photos, and donate.
Moreso than that though, they say Bryan needs your emotional support.
You can also send him a card to his hospital room. Remember, if you want it to make it there by Christmas, you have to mail it out today.
Bryan Huseby
401 North Broadway
4th Floor Delta Wing
Room #47
Baltimore, MD
***
More info from Bryan's GoFundMe page:
                                                          BRYAN'S STORY
A once vibrant young man….
Bryan, 44 and the youngest of 4 children, used to be a vibrant young man who enjoyed life to the fullest.
Through his life he was an honorable US Marine…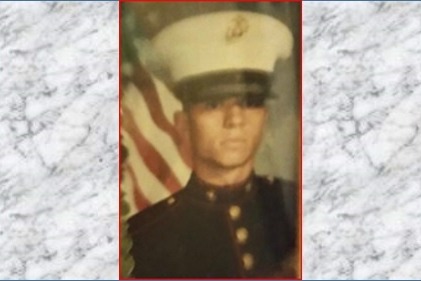 and successful up-and-coming amateur kickboxer…

…who went on to become a well-respected yoga & chi gong (qi gong) instructor and practices the healing arts. He was also a kind soul to every animal and person he came into contact with.
Who enjoyed a simple life and gave of himself…
Bryan's way of life has always been a simple one albeit a unique one. For over 10 years, Bryan lived around the Sedona, AZ region. He loved to help people, was always willing to lend a hand, believed in Karma, and enjoyed nature. And while gainfully employed, Bryan even purposefully took a year and lived in a tent in the forest so that he could be at peace and enjoy the amazing world we live in.
In 2016, feeling that he had been away too long, Bryan moved back to his little home town of DuBois, PA because he wanted to be around, and to help, his aging mother in her later years.
Who has limited health insurance…
When he moved back to his birthplace (pop. 7,454), Bryan was quick to obtain employment where he could. He leveraged his experience and managed the costs of his simple life with the money he made from teaching yoga, chi gong (qi gong) and helping others through the healing arts. But like many, his health insurance was limited and provided only the most basic coverage.
Who has endured an incredible amount of pain for 5 months…
In late summer of 2018, Bryan experienced extreme and sudden pain when his appendix burst. However, with his strength of mind and years of staying in shape physically, he 'gutted' through the pain and thought that he would get better. However, that was not the case…
After going to his local hospital twice, and being sent home twice, Bryan's pain got so much worse. He became feeble, withered away, and became a skeleton of himself. It was only after 2 months of trying to deal with it on his own, and not asking for help or letting even his family know of his situation, that some of his friends saw how bad he was. To his friends he was literally at death's door. They immediately paid for a flight and, seeing how bad he was and that he needed expert care, had him flown to Johns Hopkins Hospital in Baltimore, MD.
A man who should have died…
By the time Bryan arrived at Johns Hopkins, the poison from his appendix had already taken a major toll. His blood was septic with 5 different bacteria and he had numerous abdominal abscesses and at least one fistula. This allowed the abdominal abscesses to not only drain into his body cavity, but also allowing the poison into his abdominal organs, taking him closer to death by the minute. In addition the doctors found a small bowel perforation. He had lost more than 50% of his body weight (and he was not overweight to begin with). The doctors at Johns Hopkins, top experts in their field, told him that they were completely shocked and baffled how he was still alive.
Johns Hopkins treated him the best they could. He was treated, stabilized, and discharged with multiple active drain tubes and sent back to DuBois on November 10. Too weak to move and in constant pain, his family and friends assisted Bryan the best they could.
However, even with home health care assisting, Bryan's drain tubes became infected themselves and needed to be treated. When he reengaged his local hometown hospital however, they told him that he would need to go back to Johns Hopkins to have the issues with his drain tubes resolved.
… And who is fighting for his life this very minute…

On Nov 27, 2018 with infected drain tubes, and getting weaker instead of better, Bryan left to go back to Johns Hopkins for a follow-up. He was quickly admitted again and, as of this post, is still an inpatient at the hospital. The infection and the drugs required to fight it has taken such a toll on his body that his blood is not producing hemoglobin in large enough amounts. On Dec 11, this resulted in a required blood transfusion. The doctors are still not sure if it will work.

And while this hospital picture shows him smiling, he is still incredibly weak; and just recently could stand without assistance.
As of this post, he is unable to eat, but through a pic line is being given round-the-clock nutrition, antibiotics and pain medication. He has been told that he will more than likely be unable to eat anything, even semi-solid, for a long time (6mo or longer).
A man who has lost everything…
Since this tragedy, Bryan has been unable to work. This has led to him being multiple months behind on his rent, his utilities, all of his bills. And while family and friends have helped where we can, this illness has ultimately cost him his place to live, and his two cherished pets.  He has essentially become homeless while in the hospital getting care he can't afford and that his insurance won't pay for.
…Just needs a little help.
Bryan, a fighter, a lover of life, a warm friendly smile, and kind soul is fighting for his life. However like most of us, he worries, even in his feeble state. He gets deeply concerned when he thinks about his home being gone, his pets that he loved being gone, and where he will live; how he will pay for all the medical bills, and how will he ever get back on his feet. He knows that the road to recovery will be very long, and he deeply worries about how much of a burden he will be to his family and friends.
How can you help?
1.      First and foremost, Bryan and his family could use your prayers and emotional support.
2.      Donate to Bryan's Fund.
3.      Share any link that you get on your Facebook, or tweet this link with the hash tag #BryanHusebyFund
4.      Not getting better and not being able to take care of himself has crushed Bryan's spirits. And while donating money here would definitely help Bryan get back on his feet, a card or a word of encouragement would also greatly help him know he is not alone.
Where would your money go?
All monies raised will go to paying Bryan's medical bills, providing him with the necessary medical support once he is discharged again, and helping Bryan get back on his feet so that he can continue being a loving son and a wonderful and caring member of society.
How much do we need to raise?
While Johns Hopkins will ultimately discount some of the cost associated with his care, it is expensive. At just $2,500 /day out-of-pocket for the hospital stay alone, we are expecting bills in excess of $100,000. That doesn't account for the actual surgeries, medicines, and other doctors' fees. Add to that proper medical support for a few months and a place to live, and I realistically think that we will need to raise about $175,000 – $200,000
FAQ: 
If he is a veteran, why isn't he getting medical support from the VA?
Frankly speaking, since Bryan served and was discharged honorably, he should be entitled to basic VA hospital benefits.  However, like tens of thousands of veterans who served honorably but never had any real health issues, Bryan didn't' want to be a burden on the system and hadn't signed up with the VA. As of this post, we are working with Bryan and the military to get copies of his paperwork and start the VA process. Unfortunately, this will take 'significant' time to rectify and he simply cannot go without medical treatment until this is resolved.